NodePing's WHMCS module
Sell Monitoring
Hosting providers will find offering monitoring as a great value-added service for their customers. Our WHMCS module allows you to offer your own branded monitoring using NodePing services.
Your Product - Your Price
You can sell monitoring as a stand-alone product or bundled with your current services. You configure the monitoring, features, pricing any way you choose and can present it as your own. Our WHMCS module uses our API to seamlessly integrate the monitoring service into your WHMCS-enabled site.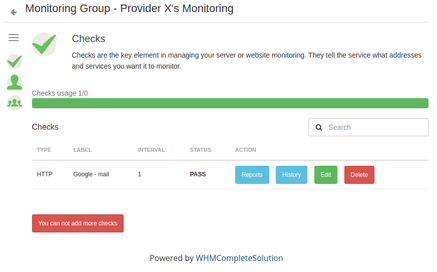 Module Documentation
Download our WHMCS module documentation to see a full list of supported features and installation instructions
Get the Module
The WHMCS module is available for free to all 'Premiere' accounts. Download the NodePing WHMCS module version 2020-07-20 and unzip it in your modules/servers directory. Follow the documentation for setup.